Despite diet and exercise, stomach fat and loose skin can remain, making you feel body-conscious.
Dr. Sutton Graham is a renowned surgeon in Greenville, SC, who can perform a tummy tuck to tighten and tone your abdomen.
Why should you consider a tummy tuck?
Look & Feel Your Best
with Tummy Tuck Surgery
Enhanced Figure
Your figure will be notably slimmer, allowing you to feel more comfortable with your body image. Many patients experience a boost in self-confidence after surgery.
Instant Transformation
You will see an immediate transformation in your figure. Your full results will be seen once the swelling has subsided.
Long-Lasting Results
While aging will continue to affect your body, you can maintain your results for many years with a healthy diet and exercise.
How does a tummy tuck work?
Are abdominoplasties common?
However, a tummy tuck is not the best option for every patient...
Are You the Right Candidate
for a Tummy Tuck?
Generally Healthy
Your health is an important consideration for surgery because certain conditions like autoimmune diseases and smoking can increase your risk of complications.
At a Stable Weight
You should be committed to a healthy diet and exercise to prevent significant weight gain. As such, you should also wait until after giving birth to undergo a tummy tuck.
Have Already Tried Diet & Exercise
Typically, we recommend that patients have first tried diet and exercise to achieve their desired figure. However, surgery is an excellent option to achieve what lifestyle changes cannot.
Unhappy with Your Waistline
Whether due to aging, pregnancy, weight loss, or simply stubborn fat accumulation, a tummy tuck is typically recommended to patients who are genuinely unhappy with the size and shape of their waistline.
Have Realistic Expectations
Setting unrealistic expectations can leave you disappointed. Discuss any questions with your doctor and educate yourself about the procedure beforehand to set realistic expectations.
Refine Your Figure
after Massive Weight Loss
Losing substantial weight can be exciting. However, many patients are disappointed with their results because their skin has significantly stretched out. This can result in excess sagging skin that prevents you from having the waistline your desire. Fortunately, a tummy tuck can be performed to refine the area, allowing you to achieve the toned abdomen you have worked hard for.
One of the most common body contouring procedures at our practice in Greenville is abdominoplasty, popularly known as a "tummy tuck." The procedure consists of the removal of loose, excess abdominal skin and fat, usually along with the tightening of the muscle layer. For patients whose abdomens do not respond to diet and exercise, the tummy tuck can help them attain a trimmer, tauter midsection. Our surgeon, Dr. Sutton Graham, is highly respected for the results he is able to achieve with this treatment, and he has helped transform the appearance of many patients from throughout the Carolinas, including the communities of Anderson, Greenville, and Asheville. Learn more about tummy tuck (abdominoplasty) at the Aesthetic Center, including the advantages, different types, and recovery aspects of the procedure.
Abdominoplasty Advantages and Candidacy
Tailored to Meet Your Needs
Recovery from Tummy Tuck
Abdominoplasty Advantages and Candidacy
Abdominoplasty is often used to correct changes caused by pregnancy or weight fluctuations. These conditions can cause stretch marks, increased fat beneath the skin particularly in the lower abdomen, lax or hanging skin, a roll or skin fold, and/or poor tone of the fibrous support layer of lower abdominal muscles. Clothing fit may be a problem as well. Abdominoplasty can help correct these concerns for many men and women. Good candidates should be at their ideal body weight or mildly overweight, but otherwise in good health. For the best results, patients who plan on losing significant amounts of weight should do so prior to body contour surgery. Female patients should generally be finished having children.
Tailored to Meet Your Needs
There are several different types of abdominoplasty that can be performed, depending on the patient's needs. All tummy tuck procedures trade some type of scar and numbness for the improved appearance, but a talented surgeon like Dr. Sutton Graham can provide a scar that is as discrete as possible. A limited (short scar) abdominoplasty is usually a combination of liposuction, muscle tightening, and removal of skin looseness below the umbilicus. This is sometimes combined with breast lift and liposuction as a "mommy makeover" or "mommy procedure." A dermolipectomy refers to the removal of skin and fat without muscle tightening. This is useful for individuals who are mostly fit and toned but have a roll or hanging skin, or for patients who want easier recovery and less downtime. An extended abdominoplasty adds additional scar length for patients who have more loose skin than usual. The incision extends around the sides of the hips. During your consultation at our practice to discuss the tummy tuck, we will show you a variety of examples of other patients' results. Dr. Graham will also use the mirror to demonstrate a moderate degree of improvement and the probable location of incisions.
Tummy Tuck / Abdominoplasty Results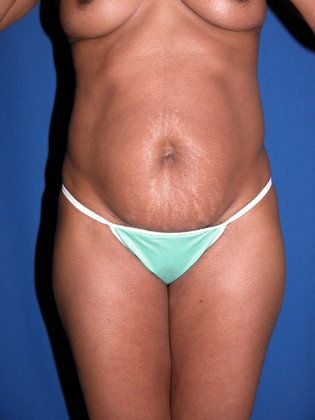 Recovery from Tummy Tuck
The tummy tuck procedure is generally performed in less than three hours under general anesthesia. After undergoing surgery at our nationally accredited facilities in Greenville, the abdominoplasty patient will usually return home after a brief stay in the recovery area. Medications are given to relieve post-operative pain. You may also have a device to slowly infuse a long-acting local anesthetic into the surgical site. Specific instructions are given to reduce the risk of blood clots following surgery and a compression garment is provided. In the beginning stages of your recovery, you will need to have someone stay with you, and you will also need to walk early and often. Plan light activities at home early on, and then you can typically resume most activities in about 2-3 weeks. You'll have several office follow-up visits with Dr. Graham to ensure a smooth, fast healing period.
Risks will be discussed and given to you in written form prior to surgery. The contour improvement after a tummy tuck procedure is quite significant, but it is important to maintain your weight and increase your activity for best results.
Dr. Graham has been performing plastic surgery since 1990. He is dedicated to providing high-quality, personalized treatment and is affiliated with several prestigious organizations, including:
American Board of Plastic Surgery
American College of Surgeons
The American Society for Aesthetic Plastic Surgery
American Society of Plastic Surgeons
For more information about our services, contact our office online or call (864) 676-1707 today.